Quality and Environmental Initiatives
DAINICHI KINZOKU KOGYO CO., LTD considers it our mission to provide customers with "better quality products and services" while considering their "environmental impact", and we engage in production activities based on company policies covering both the quality and eco-friendliness of our products.
Quality initiatives - Obtaining ISO9001 accreditation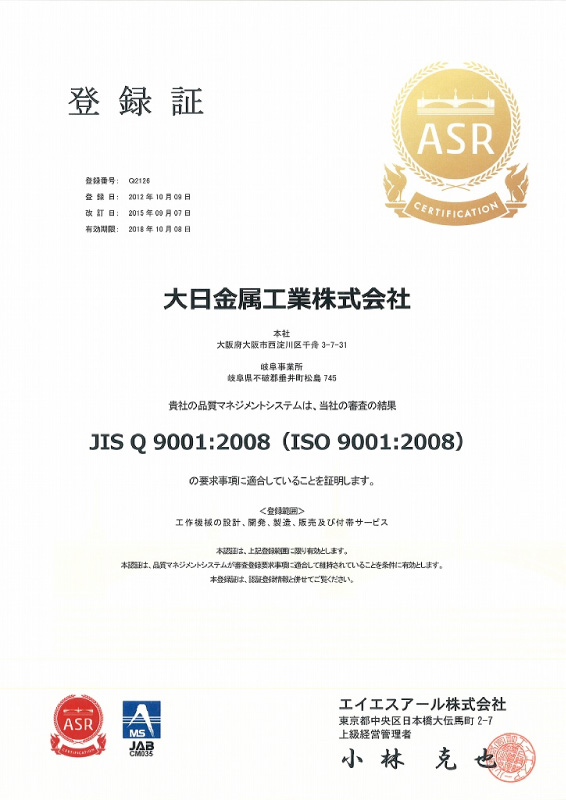 [Quality policy]
Company policy

Emphasize reducing costs
Emphasize technical improvements
Clarify coordination efforts and responsibilities
Lead by example/eliminate waste
At DAINICHI KINZOKU KOGYO CO., LTD, "delivering on customer satisfaction" forms the basic principle on which the company is founded, and we will continue to strive towards reducing delivery times, cutting costs and enriching our service lineup as a provider of machine tools that aid key industry production from the ground up. Further, the technical capabilities, and production and processing know-how accumulated over the years in the development of mid- to large-sized long-length machinery has long been one of the company's core competencies, and is one in which we will continue to actively specialize in by openly fostering young human resources while taking environmental concerns, energy-saving and safety measures into consideration. To achieve this end, the company will form as one under the abovementioned company policy in implementing a quality management system as part of its management strategy. Additionally, we will strive to conform to all product and service-related requirements and improve the effectiveness of the quality management system, while also refining our business processes and further enhancing customer satisfaction.
Date established: April 2, 2012
Representative DirectorAkira Koyama
Environmental initiatives - Obtaining ISO14001 accreditation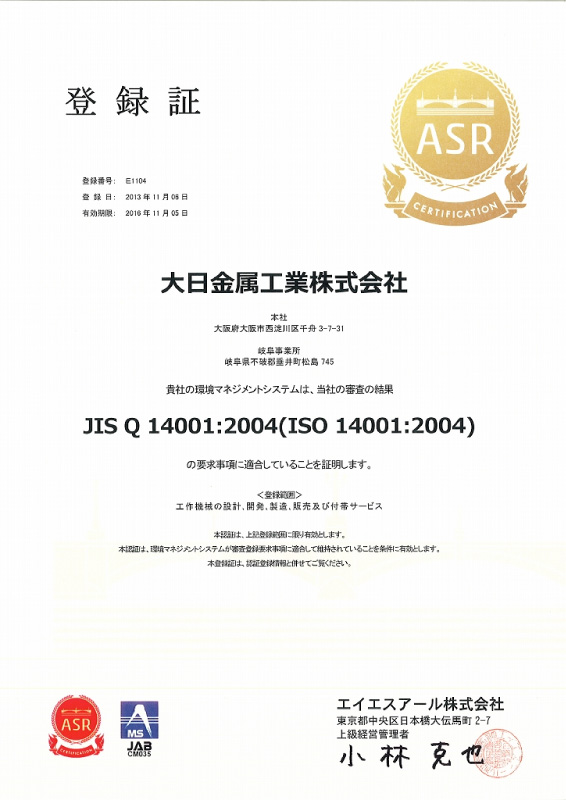 [Environmental policy]
The environmental policy of the Company is prescribed as follows based on the quality policy outlined above

We will promote resource and energy saving initiatives in our business activities, and endeavor to conduct our business in an environmentally-friendly manner that prioritizes environmental preservation improvements.
We will strive to continually improve the environmental management system and work towards preventing pollution.
We will comply with all applicable legal requirements relating to the environment, and observe any other requirements the company has agreed to.
The environmental objectives and targets set in implementing this policy will undergo continual review in the form of management reviews.
We will distribute this policy to all employees, and ensure that it is carried out and maintained. If an external body requests the disclosure of this policy, it will be provided directly, or published for public viewing.
Date established: October 1, 2012
Representative DirectorAkira Koyama